Ripple Control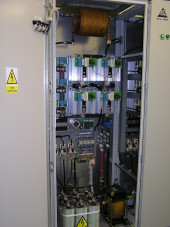 Ripple Control Systems and Transmitters
The Ripple Control Division solves the problems of power and control systems for ripple control transmitters. Based on experiences acquired during more than 35-year activity in this field, the power and control systems for ripple control stationary transmitters are continuously developed and implemented together with a subsequent service providing.
The subject of the activity is to implement control and power systems for large ripple control transmitters to 110kV levels, with 720kVA to 1.6MVA power output, as well as 250kVA power units used as a stationary frequency source with the own control system equipped with a local program–based automatic ripple control transmitters to high voltage levels (6 kV, 10 kV, 22 kV, 35 kV).
Together with the transmitter's implementation, we offer any  solutions of technical assignment, and subsequent project, supply, and installation works, inclusive commissioning the transmitter. We ensure the service for all devices supplied, during their whole lifespan. We are carrying out ongoing service works in approx. 3-year time intervals during these devices permanent operation, the purpose of which is operational parameters checking or correcting, together with continuously monitoring these ripple control transmitters technical condition.
We are carrying out also the reconstructions of older ripple control transmitters.