Ripple control systems identification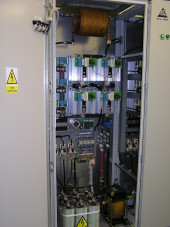 The Ripple Control Division is performing, in collaboration with cooperating companies, the total identification of intended ripple control transmitter's deployment in any location selected. Namely, this activity covers preliminary calculations of transmitter operating parameters, which allow the basic orientation from the viewpoint of future transmitter loading inclusive its necessary power regulation range, or specify transmitter operating values.

Identification activities also cover ensured special measurements in transmitters operational environment in the presence of abnormal situations originated in consequence of special operator needs regarding wiring the nets with several ripple control transmitters in operation. The measurements are focused to the monitoring of transmitter critical dynamic parameters and they are compared with previous calculations and measurements.