Reconstruction of existing ripple control transmitters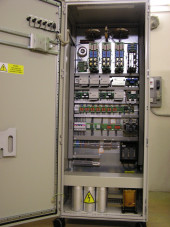 Simultaneously with production of new ripple control transmitters, EPA carries out reconstruction of older transmitters, and in that occasion, generally in the case of HV transmitters fitted with the SMK 250kVA static converter, the replacement of the VLK 04 system for the new VLK 10 takes place.
In the case of 110kV ripple control transmitters also VLK 02 and VLK 03 systems are being replaced for the new VLK 10, during which time we offer two possibilities in terms of high power parts of the SMK: Either, in the case of newer SMKs (younger than 10 years) the modification of existing high power parts so as to be compatible with the new VLK 10 system, or the complete replacement of the existing high power parts for newly innovated SMK 1600 ripple control units. The transmitters on the higher level of quality are the result of these reconstructions, i.e. ripple control transmitters fulfilling certain requirements, especially those related to fully unmanned substation operation with the possibility of remote supervision and control.
This way the following ripple control transmitters were reconstructed in Czech Republic :
S Písek
– level 22kV
– power 250kVA / 217Hz
– operator E.ON
S Pacov
– level 22kV
– power 250kVA / 217Hz
– operator E.ON
S Počátky
– level 22kV
– power 250kVA / 217Hz
– operator E.ON
S Pelhřimov
– level 22kV
– power 250kVA / 217Hz
– operator E.ON
S Humpolec
– level 22kV
– power 250kVA / 217Hz
– operator E.ON
S Mirovice
– level 22kV
– power 250kVA / 217Hz
– operator E.ON
S Jihlava – Bedřichov
– level 22kV
– power 250kVA / 217Hz
– operator E.ON
S Žďár nad Sázavou
– level 22kV
– power 250kVA / 217Hz
– operator E.ON
S Mladý
– level 22kV
– power 250kVA / 217Hz
– operator E.ON
S Tábor
– level 110kV
– power 2 × 720kVA / 217Hz
– operator E.ON
S Dasný
– level 110kV
– power 2 

×

1600kVA / 217Hz
– operator E.ON
S Kočín
– level 110kV
– power 2 

×

1600kVA / 217Hz
– operator E.ON
S Slavětice
– level 110kV
– power 2 

×

1600kVA / 217Hz
– operator E.ON
S Sokolnice
– level 110kV
– power 2 

×

1600kVA / 217Hz
– operator E.ON
S Chodov I
– level 110kV
– power 1600kVA / 217Hz
– operator PRE
S Chodov II
– level 110kV
– power 1600kVA / 217Hz
– operator PRE
S Malešice I
– level 110kV
– power 1600kVA / 217Hz
– operator PRE
S Malešice II
– level 110kV
– power 1600kVA / 217Hz
– operator PRE
S Horní Životice
– level 110kV
– power 2

×

1600kVA / 217Hz
– operator ČEZ
S Krasíkov
– level 110kV
– power 2

×

1600kVA / 217Hz
– operator ČEZ
S Neznášov
– level 110kV
– power 2

×

1600kVA / 217Hz
– operator ČEZ
S Opočínek
– level 110kV
– power 2

×

1600kVA / 217Hz
– operator ČEZ
S Vítkov I
– level 110kV
– power 1600kVA / 217Hz
– operator ČEZ
S Vítkov II
– level 110kV
– power 1600kVA / 217Hz
– operator ČEZ
S Česká Ves
– level 22kV
– power 250kVA / 283Hz
– operator ČEZ
S Vsetín
– level 22kV
– power 250kVA / 283Hz
– operator ČEZ
S Ropice
– level 22kV
– power 250kVA / 283Hz
– operator ČEZ
S Albrechtice
– level 22kV
– power 250kVA / 283Hz
– operator ČEZ
S Staré Místo
– level 35kV
– power 250kVA / 217Hz
– operator ČEZ
S Hanušovice
– level 22kV
– power 250kVA / 283Hz
– operator ČEZ
S Šumperk
– level 22kV
– power 250kVA / 283Hz
– operator ČEZ
S Zábřeh – Ráječek
– level 22kV
– power 250kVA / 283Hz
– operator ČEZ
S Mohelnice
– level 22kV
– power 250kVA / 283Hz
– operator ČEZ
Pojízdný I
– level 22kV / 35kV
– power 250kVA / 217Hz
– operator ČEZ
Pojízdný II
– level 22kV / 35kV
– power 250kVA / 217Hz
– operator ČEZ
S Police nad Metují
– level 35kV
– power 250kVA / 217Hz
– operator ČEZ
S Rokytnice
– level 35kV
– power 250kVA / 217Hz
– operator ČEZ
S Světlá nad Sázavou
– level 22kV
– power 250kVA / 194Hz
– operator ČEZ
S Chotěboř
– level 35kV
– power 250kVA / 217Hz
– operator ČEZ
S Olomouc – Holice
– level 22kV
– power 250kVA / 283Hz
– operator ČEZ
S Olomouc – Hodolany
– level 22kV
– power 250kVA / 283Hz
– operator ČEZ
S Olomouc – north
– level 22kV
– power 250kVA / 283Hz
– operator ČEZ
S Valašské Meziříčí
– level 22kV
– power 250kVA / 283Hz
– operator ČEZ
S Frýdlant
– level 22kV
– power 250kVA / 283Hz
– operator ČEZ
S Riviera
– level 22kV
– power 250kVA / 283Hz
– operator ČEZ
S ... substation