Vibrating and Sorting Technologies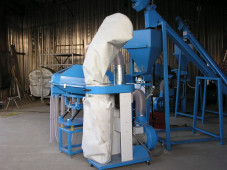 The activities of the Division of Vibrating and Sorting Technologies include the design, development, production, assembly and maintenance of sorting and processing lines and individual machines designed for feeding and sorting various materials. The machines are used in the food processing, wood-working, glass, ceramic, chemical and pharmaceutical industries and especially in the processing and recycling of waste materials.
We export significant part of production, mostly into the states of European Union (especially Germany), several machines we exported also into Asia and Africa.
The main advantages of our machines are individual production based on customer's requirements, broad assortment of sorting machines and advantageous price-output ratio.
Principle of sorting is :
Machines designed for feeding of materials work mostly on the basis of action of vibrations (controlled resonant vibrating feeders).