Drum magnetic separators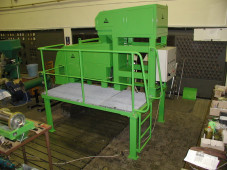 Description, principle :
BMS Drum Magnetic Separators are designed for separation of magnetic admixtures from loose mixtures where they can endanger following technology or lower the quality of processed materials. BMS Separators can be also used for magnetic metals recovery from the waste.

BMS Drum Magnetic Separator consists of outer non-magnetic rotating drum and inner static magnetic drum with permanent magnets. The magnets create the necessary magnetic field on the surface of the outer drum. The magnetic drum can be fit with ferrite magnets or rare earth magnets (NdFeB).
Main advantages :

individual production based on customer's requirements,
high separation efficiency,
simple assembly,
long durability,
very good price-output ratio.
Technical parameters :

| | |
| --- | --- |
| Nominal output: | 0.2t/h - 15t/h |
| Input mixture temperature: | max. 60°C |
| Feeding of the mixture: | by vibrating feeder or conveyor belt |
| Diameter of outer drum: | 150mm - 400mm |
| Active length of outer drum: | 200mm - 1000mm |
| Drive of outer drum: | separate drive with gearbox |
| Supply voltage: | 3 × 400V, 50Hz / 60Hz |
| Environment: | normal, free of aggressive vapours and humidity |
| Working temperature: | +5°C to +40°C |
Reference :
DAIEI KANKYO Kabushiki Kaishya, Japan
PAI-YING MACHINE MFG. Co. Ltd, Taiwan
Deponie- und Beteiligungsgesellschaft mbH, Rippershausen, Germany
G.U.N.T. Gerätebau GmbH, Barsbüttel, Germany
KOVOHUTĚ Mníšek a.s., Mníšek pod Brdy, Czech Republic
SKLÁRNY KAVALIER a.s., Sázava, Czech Republic