Sorting and processing lines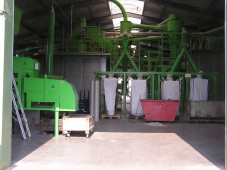 We produce and deliver complete sorting lines for :
separation of ferrous/non-ferrous metals and plastics,
separation of electronic waste,
separation of kaolin suspensions,
recycling of industrial and municipal waste, packing glass,
special purposes.
Sorting, processing and recycling lines, its purpose, volume and concrete solution are suggested always after the consultation with the customer about his intention – what material wants he to process, what are the space possibilities, at what regime will he operate the line. Important is the volume of required automation, volume of participation of operating staff, and especially required output.
Main parts of the line :
input part with inlet bin,
crushing (sometimes two-stage),
feeders, air generating units,
sorting,
output part.
References :
processing and sorting of the industrial waste (crushed refrigerators, waste cables …)
DAIEI KANKYO Kabushiki Kaishya, Japan
SATO TEKKO Co., Ltd., Japan
PAI-YING MACHINE MFG. Co. Ltd, Taiwan
ARGUSS s.r.o., Horný Majer, Slovakia
JAS s.r.o., Pardubice, Czech Republic
KIWEK s.r.o., Mladějovice, Czech Republic
Trecha Jiří, Rohatec, Czech Republic
processing and sorting of the glass
AMT s.r.o. Příbram, Mníšek pod Brdy, Czech Republic
PRECIOSA a.s. – Závod 13 Prysk, Czech Republic
processing and sorting of the seeds
LESY ČR, Týniště nad Orlicí, Czech Republic
sorting of the liquid suspensions
LB MINERALS a.s. – Závod Horní Bříza, Czech Republic