Vibrating sorting tables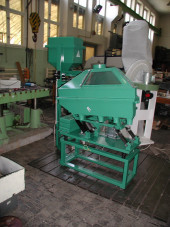 Description, principle :
The VSU Vibrating Sorting Table is designed for sorting of dry loose mixtures without dust containing particles of different specific weight and of approximately same dimensions. EPA produces two main types of vibrating classifying tables – the VSU-200 a VSU-300. The VSU-200 is designed for the upper exhausting of sorting surface, design of the VSU-300 is prepared for installation of two fans – for the upper exhausting and for the blowing-through the sorting surface from below.
Processed materials first have to be crushed in a suitable grinding mill. The process of classification is driven by air flow going through screen surface and at the same time by its oscillation. The sorting screen surface can be inclined both lengthwise and crosswise, as well as the vibration amplitude and the amount of air can be adjusted. Thus the optimum operational conditions can be set for any particular mixture to be classified.
Working site with the VSU Vibrating Sorting Table consists of :
inlet bin,
vibrating feeder,
vibrating sorting table,
air generating units,
control electronics.
EPA can deliver :
vibrating sorting table with inlet bin, vibrating feeder and air generating unit (VSU-200, VSU-300),
complete processing line (RLV-200, RLV-300).
Usage examples :
in metal waste treatment industry, for sorting of crushed electronic waste, conductors, cables and connectors,
sorting of rock containing precious metals or semiprecious stones,
by glass imitation jewellery for sorting of beads or glass stones acc. to geometric shape.
Technical parameters :
Classified materials:
dry loose mixture containing particles
of different specific weight
Nominal output:
VSU-200 80kg/h – 800kg/h
VSU-300 100kg/h – 1000kg/h
acc. to the type of classified materials
Grain size of the mixture:
0.2mm – 6mm, 6mm – 10mm
Purity of sorted out metal fraction:
~98%
Working frequency:
adjustable in the range of 10Hz – 25Hz
Double amplitude of the sorting table:
adjustable in the range of 3mm – 7mm
Supply voltage:
3 × 400V / 230V, 50Hz / 60Hz
Input:
VSU-200 1.5kW
VSU-300 3.5kW
Required ground plan for the machine installation:
VSU-200 3m × 2m
VSU-300 3.5m × 2m
References:
indoor, normal, free of aggressive vapours and humidity
References :
SATO TEKKO Co., Ltd., Japan
ADV.EN.SOL Inc., Greece
RAOUL LENOIR, France
ARGUSS s.r.o., Horný Majer, Slovakia
ING. ČASTULÍK s.r.o., Slovakia
AMIPOL s.r.o., Zlín, Czech Republic
Ing. Jiří Bareš – BAMBAS, Skalice nad Svitavou, Czech Republic
Kužílek Zdeněk, Třemošná, Czech Republic
MESIT s.r.o. – Integrovaná střední škola, Uherské Hradiště, Czech Republic
MHM EKO s.r.o., Zábřeh
ODES s.r.o., Jaroměř, Czech Republic
PRECIOSA a.s. – Závod 13 Prysk, Czech Republic
RETAL s.r.o., Praha 4, Czech Republic
SAKER s.r.o., Kroměříž, Czech Republic
Trecha Jiří, Rohatec, Czech Republic
VITARO s.r.o., Kolín 6, Czech Republic