Vibrating sorters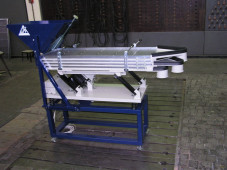 Description, principle :
The vibrating sorters are designed for the sorting of loose mixtures (granules, jewellery stones, sand, crushed materials, soil, seeds of plants), liquid suspensions etc.
The functional block of the vibrating sorter is an oscillating resonant mechanism powered by a linear vibrating drive. The drive holds the mechanism permanently in resonance. The control unit of the drive enables continuous control of vibration amplitude of the screen box and automatically holds the system in resonance. Vibrating parts of the sorter are attached to the base frame by a set of coil springs, which do not allow the transfer of vibrations into the foundation.
Main advantages :
mechanical simplicity – without any motion gearing,
optimization of the sorting by adjustment of the working frequency and by common control of the vibration amplitude,
stationary action with adjusted vibration amplitude independent of the technological load or of other influences (voltage swing, etc.),
stationary action with minimum input,
self-cleaning of screen surfaces,
insignificant transfer of the strokes into the surroundings (into the foundation, floor, etc.),
smooth run-up and run-down without any strokes into the surroundings and without any current strokes into the electric network,
high energy efficiency and saving of energy,
very low noisiness,
simple operation and minimal maintenance, without any mechanical tuning and adjusting,
long durability,
safety operation,
easily connectable with the central technology control,
individual production based on customer's requirements
Technical parameters :
(only some of the machines listed, assortment is much broader)
Type:
MVT-A
MVT-S
TKV-100
Sorted materials:

jewellery stones,
crushed materials,
loose foodstuffs,
granules, sand, etc.

seeds of plants
kaolin suspensions
Nominal output:
up to 1t/h
0.04t/h
70m3/h
Number of screen frames:
standard 2pcs
possible to 4pcs
standard 1pc
possible 2pcs
1pc
Medium vibrating
frequency:
app. 20Hz
app. 20Hz
app. 25Hz
Input:
40W
40W
480W
Dimensions [mm]:
1850 × 540 × 655
2300 × 540 × 655
1000 × 1500 × 1200
Weight:
app. 265kg
app. 350kg
app. 400kg
References :
SATO TEKKO Co., Ltd., Japan
BRINKO, spol. s r.o., Praha 3, Czech Republic
CHATON a.s., Turnov, Czech Republic
ČOKOLÁDOVNY a.s. – Závod DELI, Lovosice, Czech Republic
Ing. Jiří Bareš – BAMBAS, Skalice nad Svitavou, Czech Republic
LB MINERALS a.s.
- Závod Chlumčany, Czech Republic
- Závod Horní Bříza, Czech Republic
- Závod Kaznějov, Czech Republic
LESY ČR, Týniště nad Orlicí, Czech Republic
LITMAS, s.r.o., Tanvald, Czech Republic
PRECIOSA a.s., Jablonec nad Nisou, Czech Republic
- Závod 3 Liberec, Czech Republic
- Závod 4 Turnov, Czech Republic
- Závod 5 Jirkov, Czech Republic
- Závod 7 Jablonné v Podještědí, Czech Republic
- Závod 9 Jablonec nad Nisou, Czech Republic
- Závod 13 Prysk, Czech Republic
- Závod 15 Liberec, Czech Republic
VERTEX a.s., Litomyšl, Czech Republic